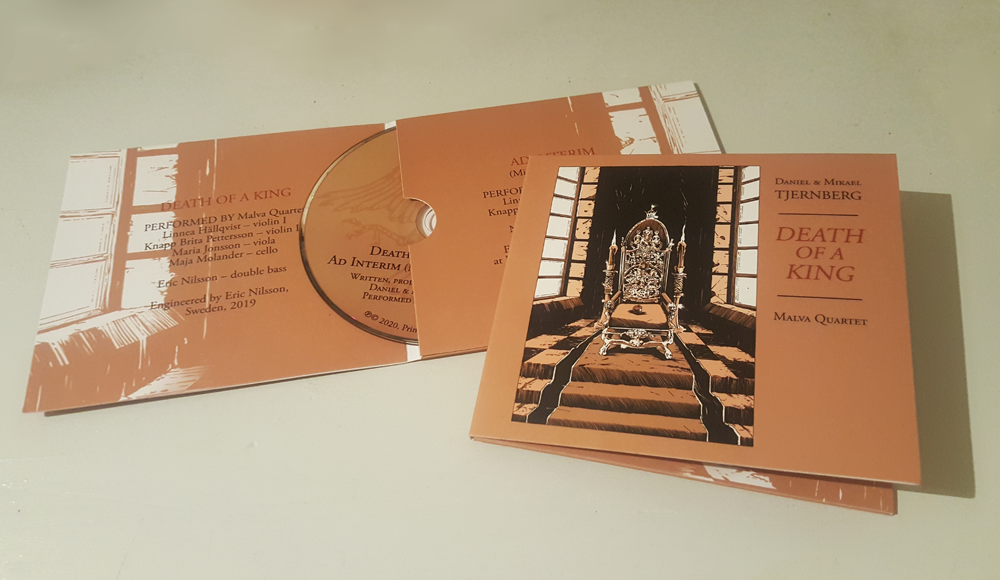 — Following the release of their compilation album Selected Early Works (Blue Spiral Records, 2019), this January will see the release of a limited edition maxi-single. Highlighting their unmistakable musical tone-language, the single holds two pieces of Western art music penned by the Swedish brothers, intimately rendered by renowned string ensemble Malva Quartet [Malvakvartetten].
Physical distribution
Wiener LP Café (Wien, Austria)
Underflow Record Store & Art Gallery (Athens, Greece)
Rekomando (Polí5 & Day After aliance) (Prague, Czech)
Bengans skivhandel (Göteborg, Sweden)
CD Fyndet (Uppsala, Sweden)
+ Tjernbergmusic Bandcamp
-> Read more…
-> Browse Discography
As we've been writing and performing music together for such a long time now—starting out as merely small kids—we've gathered quite a few musical influences along the way, and to summarize our musical output in a few words has consequently always been somewhat of a challenge for us. It spans a broad array of different genres and styles, and we often strive to bring together traditionally segregated styles, with the intention of creating something sonicaly exciting. Having said that, it is predominately instrumental, and occidental art music as well as jazz is especially close to heart.
-> Read more…
Quotes
Gezeitenstrom Magazin
The pure string-based 'Death of a King' is something very special in the field of classical music.
Gezeitenstrom Magazin
TRAKS (about 'Flight of the Raven')
A short but significant work, the one signed by Daniel & Mikael Tjernberg, which manages to bring together themes and tones clearly of classical inspiration with a contemporary feel
TRAKS
2indya (about 'Flight of the Raven')
A nice collection of songs from the brothers who continue to experiment through their music and bring old concepts to a new light
2indya
Beach Sloth
On 'Flight of the Raven' Daniel & Mikael Tjernberg deliver a powerful piece of work.
Beach Sloth
Facing North (about 'Anton')
This is fantastically creative musical composition with a powerful gut impact. Highly recommended for those on grey or darker paths, or for people who prefer intellectually complex music to power their rituals. Bravo!
Elizabeth Hazel
Lux Atenea
A talented and brilliant definition of eclectic musical inspiration with sublime essences of fusion jazz, contemporary classical music, ambient themes and neoclassicism
Lux Atenea
Chain DLK
The emotion truly comes when we reach the climactic cues, the sweeping strings tugging at the listener's heart in the way only great composers can achieve
Chain DLK
Daniel and Mikael Tjernberg
A picture can tell a thousand words. A piece of music can tell a thousand pictures
Daniel and Mikael Tjernberg
Hypnagogue
The Tjernbergs are excellent composers and musicians
Hypnagogue
Musical Zone Japan
Songwriting skills adhere to melody, where an organic correlation between folk music, film music, dark ambient and jazz strike a nicely balanced chord. It's easily one of the top albums of this genre
David Purdie
Darkroom Magazine
The work of brothers Tjernberg shows taste, genuine passion and a wonderful gift of writing and arranging music
Roberto Alessandro Filippozzi