Full-length album (Digital), 9 Tracks
Release date: 2014-01-27
Label: Dikotomi Produktion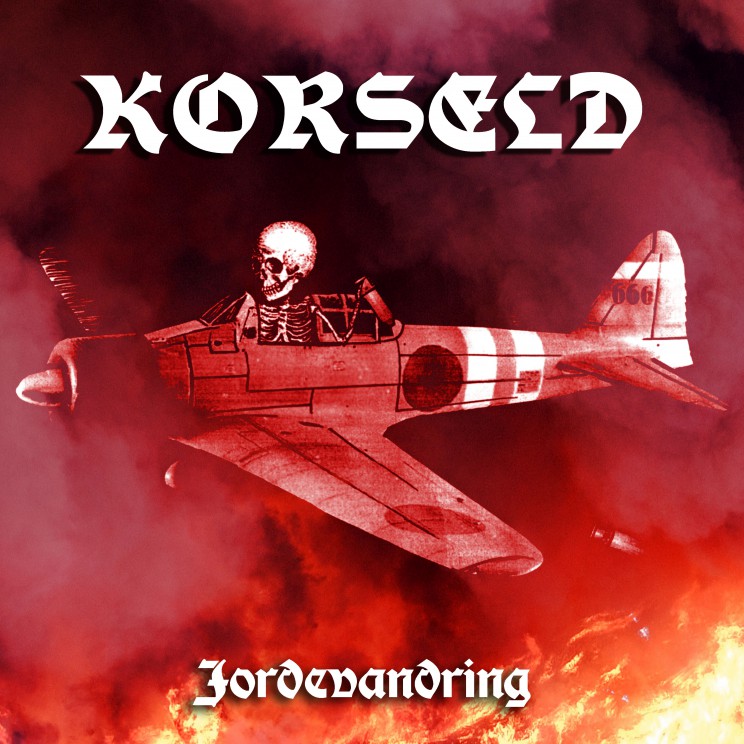 Tracklist
1. Möte Med Döden [Meeting with Death]
2. Bombräd [Bombraid]
3. De Sista att Falla [The Last to Fall]
4. Dagen då Kriget Kom [the Day when War Came]
5. Eldstrid [Fire Fight]
6. I Korpens Skugga [In the Shadow of the Raven]
7. Gryningstid [Dawn Time]
8. Skyttegravens Mörker [Trench Darkness]
9. Jordevandring [Earth Wandering]
Comments
Simple and heavy were the leading words when guitarist Daniel Reese began composing the music for what would become the first recording of Korseld, "Dagen då kriget kom" (track 4 on the album). When Daniel Tjernberg (vocals, keyboard) joined and began writing lyrics, eventually a focused and clear style emerged; sung in Swedish language and powerful without being too complicated. After the recording of the first song, the rest of the material for what would become the album "Jordevandring" fell into place quite quickly. From the opening track, "Möte med Döden" an initial punch in the face to the concluding doom-groove "Jordevandring", the music of Korseld will take you on a journey through the war, darkness and evil of mankind.
"When I wrote the lyrics, I did not think too much, everything was there in the music", says Tjernberg when asked how he reasoned regarding his lyrics writing. "Since I wanted to build a whole and an atmosphere – it would feel like an album more than just nine songs in a row". Reese says: "The texts have for me been the starting point for the music. When Daniel T delivered a new text, it has given me new ideas to work on. In this way we have built up a sound that I think feels like our own.
Additional Information
All music by D. Reese except "I Korpens Skugga" and "Jordevandring" by D. Tjernberg/M.Tjernberg/D. Reese
All lyrics by D. Tjernberg
Recorded, mixed and produced by Korseld in Goatman Studios 2011-2013
Mastered by Dick Lundberg
Cover artwork by Daniel Tjernberg
Lineup
Daniel Tjernberg – Vocals and keys
Daniel Reese – Guitars
Additional musicians:
Dick Lundberg – choir vocals on "De Sista att Falla"
Mikael Tjernberg – Flute on "Jordevandring"
Jonas Hoffman – Drums
Quotes
In my opinion Korseld are a very great sounding atmospheric doom/death metal band and if you are a fan of this musical genre, you should check out this recording.
Doomed to Darkness zine (8/10)
/…/ it's amazing that two people can produce this kind of music. It's heavy, sometimes quickly, and above all, it feels very own, without in any way sound strange
Skrutt Magazine (7/10)
Purchase:
Since February 2021 "Jordevandring" has been taken down from digital retrailers, to be reworked, remastered and later on released as version 2.