Type: EP, 4 tracks
Format: Digital
Release date: 26th March 2021
Label: Self released
Cat. no.: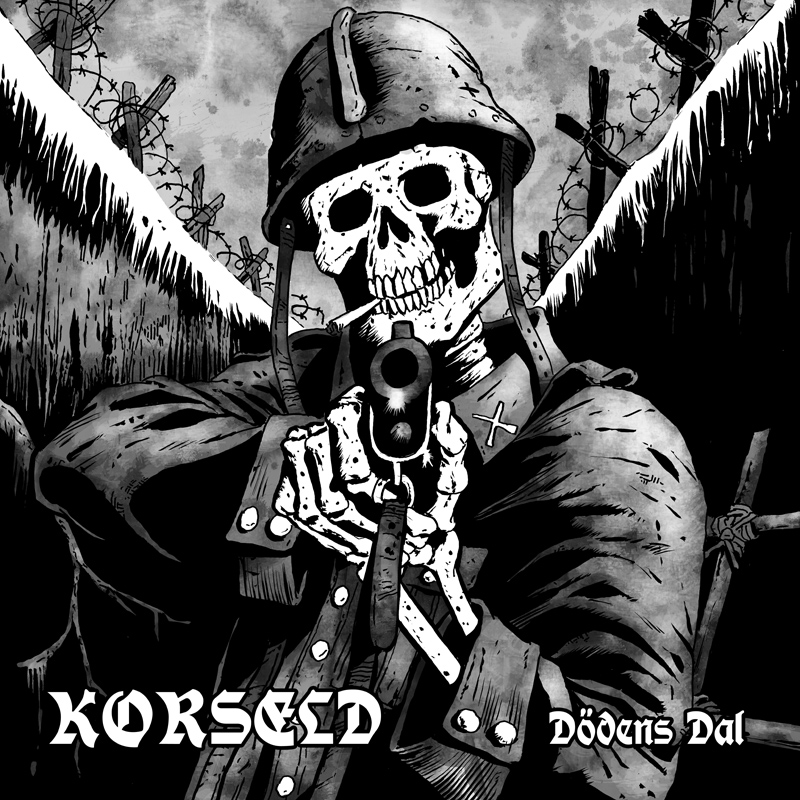 Tracklist
1. Håll fanan högt
2. Redo för strid
3. Häng dem högt
4. Dödens dal
Comments
Korseld follows up last year's single Totalt Krig with the new four-track EP Dödens Dal. Here, doom and death metal are combined in the band's own peculiar mix with atmospheric elements and sung in the mother tongue. Everything is topped by commissioned artwork by Swedish illustrator Lars Krantz and mastered by Dan Swanö, Unisound.
Line-up
Daniel T – Vocals and keyboard
Daniel Reese – Guitars and bass
Jens Fredriksson – Bass
Jonas Hoffman – Drums
Recorded in Goatman Studios 2018 – 2021
Music by Daniel Reese
Lyrics by Daniel T
Artwork by Lars Krantz
Produced by KORSELD
Mastered by Dan Swanö
Quotes/Reviews
Excellent, cold and frosty riffs, perfect vocal and impossibly hopeless mood

Deadly Storm Zine
'DD' is a pleasing listen, peppered with intrigue and vibrant peaks

Rock Queen Reviews
Rock Queen Reviews – 9/10
Deadly Storm Zine
Ammo – Supports the underground – 8/10
Purchase:
Bandcamp
Amazon
Deezer
Itunes/Apple Music
Spotify
Yandex
Youtube Music