Full-length album (CD/Digital), 17 Tracks
Releasedate: 2008-04-01
Label: Waerloga Records
Cat. no.: Waer012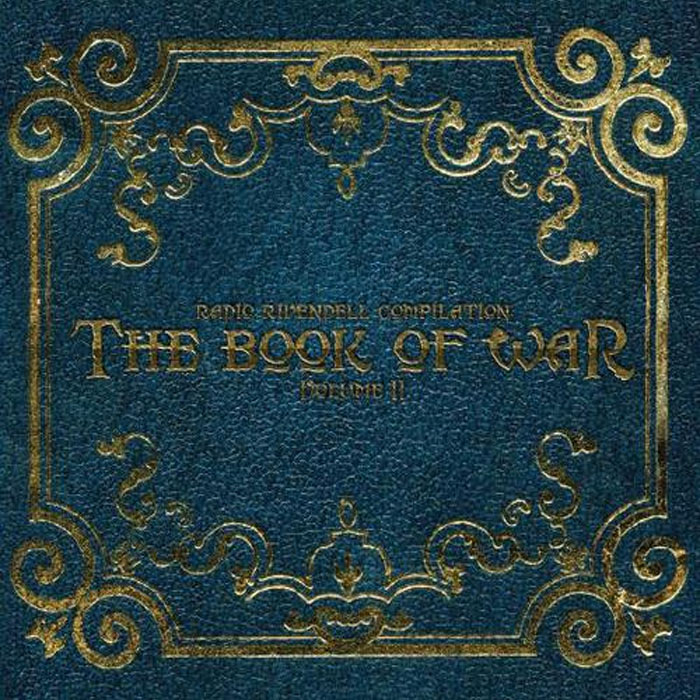 Tracklist
1. Sully Koba – Captain Angus
2. Dråm – Leaving Home
3. Erdenstern – The Reiters
4. Lost Kingdom – The Bridge Over Gruhdok
5. Markus Holler – The Great March
6. Dimitrij Volstoj – Attack In The Night
7. Za Frûmi – Vojvod Szadrin
8. Peter Szwach – The Siege Of Ahrem
9. Gargrim the Liar – No Way Out
10. Encryption – Under The Crescent Moon
11. Sibelian – Conjuring The Demons
12. A Journey Of The Mind – The Dawn Of Fate
13. Sean Beeson – The Eve Of Battle
14. Unto Ashes – Never Surrender
15. Anabasis – Hold The Line
16. Zmei Gorinich – Eternal Glory
17. Ataraxia – Migratio Animae
Comments
Like the much appreciated first Radio Rivendell compilation, The Book of War is one album for fans of neoclassical, dark ambient, orchestral, medieval and fantasy music to pick up!
The project started with the writing of a story, which was an approach different from that of the first compilation in the series. The story tells about the great war between the dark lord Vojvod Szadrin and the fearful troops of demons and dark champions and the heroic captain Angus with his reiters, knights and infantry. Chapters were made and became song titles, as a total of 17 artists and acts went into the project. Almost all the songs are unique for the compilation.
Quotes
Gothtronic (7.4/10)
Radio Rivendell manages to present a quality album which should be very appealing to
worldwide fantasy lovers.
Kogaionon (100/100)
This is the first material that I get from the Swedish label, and also the biggest and most
pleasant 2008 surprise.
Malignant Records
Part II of this epic, dark fantasy compilation series. Yet again, exceptionally well produced
music from a lot of names you may not recognize, but who are making some pretty serious
and noteworthy compositions.
Mentenebre (9.5/10)
The Book Of War is simply a spectacular album, the best thing of the best, with strong,
professional and complex compositional lines in absolutely all tracks, created perfectly for the
most demanding lovers of neoclassic melodies.
Musical Zone Japan (5/5)
It's with joy I listen to this album. I love the variation, the fantasy feel of The Great March, the authentic feel of Leaving Home, the great relaxed hymn of The Bridge Over Gruhdok and
the enigmatic and thrilling feel of Attack in the Night.
Musique Machine (4/5)
Some of the highlights included here are; […] Newcomers Lost Kingdom's The Bridge Over
Gruhdok with its elegant yet wavering mix of harpsichord, church organ and flute to make a
sombre yet pretty melodic light classical wonder.
Sci-Fi Online (7/10)
Highlights of this collection, for me, include: […] The Bridge over Gruhdok: This has a very
familiar church feel to it and is incredibly relaxing.